Alonzo W. Smith, Sr. "1971"
Alonzo W. Smith, Sr. is a native of Charleston, South Carolina and a very proud graduate of Boggs Academy College Preparatory School, Keysville, Georgia. The experiences he gained at Boggs were positive influences on his life. Later, he learned to meet life's challenges by using three qualities he acquired at Boggs- commitment, determination and a high level of motivation. He once stated, that his experiences from Boggs have been both invaluable and rewarding. After all, he met his life - partner, the former Joslynn Williams, at Boggs and they are enjoying their 46th year as husband and wife.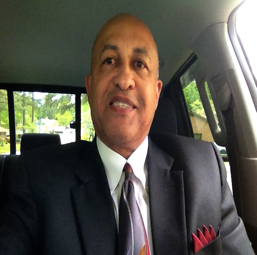 After graduating from Boggs he attended Knoxville College in Knoxville Tennessee. It too was a Presbyterian School. Knoxville continued to shape the Christian and Educational principles instilled in him as a child as well as at Boggs. As a matter of fact, all of this prepared him to be successful at Knoxville from which he graduated in 1975.
Later, he worked for the South Carolina Department of Health, Environmental Control and Emergency Medical Services (EMS) Division, where he spent most of his career. He was state director with the division for many years until his retirement in June of 2010. He holds numerous professional certifications and has been recognized for many awards. Under his administration the implementation of the Statewide Data System and Credentialing Information System became a reality. He has witnessed and been involved in significant advancements which have moved the South Carolina EMS System forward in many aspects.
During his tenure he has had the opportunity to travel the Continental United States. Throughout his travels he has met and worked with many talented people and fostered countless positive relationships both personally and professionally that will last a lifetime. He continues to serve on state and national committees involving EMS & Trauma. Currently he serves as the Assistant Director for Emergency Services for Richland County, as well.
Alonzo is an avid sports fan and attends numerous sporting events during the year. He officiated High School Basketball for over 20 years and is also a member of the Executive Committee for the South Carolina EMS Association.
He is an active member of Northminster Presbyterian Church and currently serves as an offering steward, an usher, a member of the nominating committee and formally
Moderator of the Deacon Board. Sharron T. Williams of Northminister states that while moderator of the Deacon Board, Alonzo sponsored the creation of the Back Pack Ministry which provides food and backpacks for kids. Due to Alonzo's influence and passionate support, twenty-five children receive a weekend back pack with soup, cereal, ravioli, oatmeal, grits, crackers, fruit cups, and more throughout the entire year. Alonzo Smith, the church thanks you for your leadership!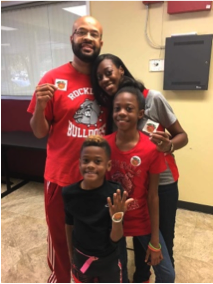 Alonzo is also an active lifetime member of Omega Psi Phi Fraternity. Some of his other interests when he has time include jogging, racquetball, training his Airedales and listening to jazz.
Alonzo has been instrumental in continuing the legacy of Boggs Academy for many years. He served as National Vice President twice, chairperson of the Scholarship Committee as well as being a major component of the origination by creating major details of the program, revising provisional guidelines and assisting majorly with developing the application techniques. Alonzo still continues to serve on this committee in an interim capacity today. He is a major part of the leadership team of the BANAA and is without a doubt an integral part of its Board of Directors and has been for the past eight years.
He is forever grateful for the opportunity to have attended Boggs based on the sacrifice, and foresight of his mother Mrs. Cynthia McCottry Smith's hard work and sacrifice on his behalf. He says it gives him much pleasure and he is extremely honored to work in concert with his esteemed colleagues on the board to continue to preserve the legacy of Boggs and lead the Association to greater heights.
Alonzo and Joslynn have two sons Alonzo W. Smith, Jr. & Daniel Smith. Alonzo Jr. resides in Stockbridge, Georgia with his wife Tiffany and two daughters, Ashley and Tore' and great grand Amare. Daniel lives in Conyers, Georgia with his wife Maya and two children, Amaya and Daniel Jr. Alonzo currently lives in Columbia, SC with his wife Joslynn and their two Airedales Manley and Misty.
BANAA wishes Alonzo, Joslynn and their family many blessings in the years to come and we are eternally blessed to have you as a part of our organization and family…. THANK YOU, and A HEARTY CONGRATULATIONS TO YOU ALONZO!!!!