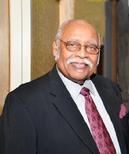 John Franklin
2012 BA Alumnus of the Year
Mr. John Franklin
John Franklin was born and spent his childhood in Brooklyn, NY where he had the greatest parents that one could ever want, Ivy and John Wesley Franklin. John says that his father was known as "Frank" making it easier to distinguish the two Johns for family and friends.
John attended Our Lady Of Victory Catholic school until in the sixth grade when he was forced to leave school because he would not become a Catholic. In 1953 he asked his parents could he go to a school they had heard of called Boggs Academy in Georgia (John had heard about Boggs from one of its graduates, Fred Ziegler class of 1946) and got a resounding "No" from both parents. John then attended PS 35 in Brooklyn, NY, a school renowned throughout the state for its athletes. While attending PS 35, John played basketball with Lenny Wilkins (Basketball player and coach) and Tommy Davis (baseball star). Living in Brooklyn was a mecca for so many kids who grew up there to do great things in life but many teenagers, like John, found themselves getting involved with and hanging out with the wrong folk. In June of 1954, while walking the streets of Brooklyn on the way to a block party, John was shot from a vehicle in front of the famed Concord Baptist Church, pastured by the even more famous Reverend Gardner Taylor. Ironically, John was baptized by Reverend Taylor in this same church. In that same drive by shooting, James Joyner, another future Boggsite was also shot. James was a 1958 graduate.
After getting out of the hospital the next day, it took only a few minutes for Frank and Ivy Franklin to decide that their son should be allowed to attend Boggs. With this decision, a life-long love for Boggs Academy began for John. From the famed Macon Street in Brooklyn, several others attended Boggs. Scott Coy, class of 54, Ernest Coy, class of 56, Robert Pulley, class of 58, Andrew Joyner, class of 54, Leroy Harrod, class of 58, Bernard Joyner, class of 60 and the one and only Fred Ziegler, class of 47. Mr. Ziegler, step-father to Scott and Ernest Coy, was responsible for all of these young men going to Boggs.
John graduated from Boggs in 1957. He then attended Hampton Institute for one year. After leaving Hampton, John attended Newark College of engineering, Stony Brook College before enlisting in the Army where he spent the next two years in Germany working as an Ordinance Technician. John returned to Brooklyn after leaving the military and began his career at the Social Security Administration. After leaving the employ of Social Security, John worked in several job areas. The most outstanding job was as a New York City Corrections Officer at the famous Rikers Island Correctional Facility. It was during this time that John married Thelma Miles. Two years after that marriage ended, John married Joyce Hobbs and they became parents of Michael Franklin.
John has always been one who looked beyond himself and often saw things very differently than most. He saw needs and tried to meet them. In 1980 he started Omega 13, Inc. in his community to assist kids who were less fortunate. This organization provided under privileged kids the opportunity to participate in Little League, Pop Warner and other social activities. Omega 13, Inc. is still active and the mission remains the same.
Presently, John is very involved with the Boggs Academy National Alumni Association, where he serves as VP for Public Relations. He is a driving force in this organization whose aim is to ensure that the history of Boggs is never forgotten in a world where stories have ceased to be told. He is a vital member of the Northeast Alumni Chapter. John also continues his involvements with Omega 13, Inc.
One of the outstanding things about John is his ability to network. Thank goodness, long distance telephone calls are not very expensive now, because when John gets a lead on a possible Boggs connection, he immediately follows up with a telephone call and or email. He really reaches more folks by telephone/email with Boggs as the focus, than most of us can imagine.
John has an acute interest in exposing us and others to the history of private day and boarding schools for African-Americans (most of them are now closed) that extends far beyond Boggs Academy. If you want to know more, go to www.nacinc.org and take a look. John founded this site and gathered much of the information found there himself.
As sharers of the Boggs legacy, we are proud to have John Franklin as our Alumni of the Year 2012.